WINE DESCRIPTION
For over four generations, the Catena family has grown vines in the foothills of the Andes Mountains in Mendoza, Argentina. In his pursuit to make wines that stand with the best in the world, Nicolás Catena identified the best lots and rows, in the Catena family's estate vineyards.
The Adrianna vineyard is located at almost 5,000' elevation in the Gualtallary sub-district of the Tupungato region. White Bones Chardonnay comes from select rows within Block 1 of the Adrianna Vineyard. The name refers to the soil underneath these rows, which is layered with calcareous deposits and limestone as well as fossilized animal bones - remnants of a river that used to pass through the region.
There are many theories about why the grapes coming from these rows have such distinctive floral aromatics with an earthy minerality in the nose and palate. It may be related to the minerals in the soil or to the effects that the calcareous deposits have on root penetration.
At this extreme high altitude, the nights are cool, only a few degrees above freezing even in the summer. The night-day temperature difference is between 15 and 20 degrees. And the sunlight is more intense because of the altitude.
TECHNICAL INFORMATION
Varietal: 100% Chardonnay
Alcohol: 12.70%
Total Acidity: 8.1 grams/liter
pH: 3.2
500 lts foudres
Wild yeasts
Unfined and unfiltered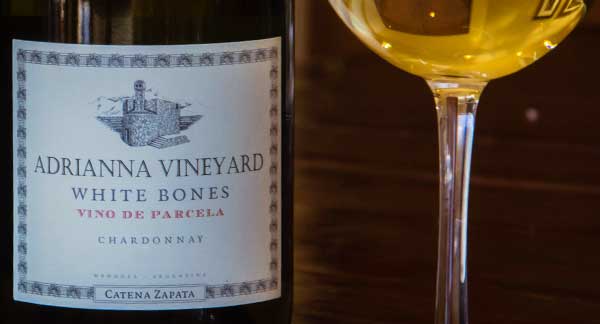 VINEYARD
Adrianna Vineyard: Gualtallary District, Tupungato Alto Region, Uco Valley, Mendoza, Argentina
Parcel Name: White Bones
Parcel Surface: 2,2 Hectares
Soil composition: Alluvial origin. Calcareous soil
Altitude: 4.757 ft (1.450 m) elevation
WINEMAKING AND AGING
This wine goes through cold settling for 10-24 hours at less than 6ºC to extract aromas. The juice is then fermented for around 45-95 days. Biological Ageing, Elevage: 12-16 months in 100% Wood Oak barrel. Second, third and fourth use barrels.